Hofsas House Hotel

Hofsas House Hotel
Between 3rd & 4th Ave
on San Carlos Street.
P.O. Box 1195
Carmel-by-the-Sea, CA 93921
Casual elegance, personal service and traditional family hospitality.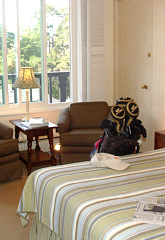 Wine Enthusiast Magazine Names Monterey County Wine Region as
The 10 Best In The World!

Come checkout Carmel's new Wine Walk-by-the-Sea which currently features 10 wine tasting venues. The Carmel Wine Walk by-the-Seaô is also pleased to offer the Wine Tasting Passport an added value to sweep visitors away to ten different tasting rooms.

The $50 Passport, a $ 100 value, provides tasters with one $10 flight at each of the ten tasting rooms of Blair Estates, Caraccioli Cellars, DeTierra Vineyards, Figge Cellars, Galante Vineyards, Manzoni Cellars, Scheid Vineyards, Shale Canyon Wines, Wrath and Vino Napoli. The Wine Tasting Passport does not expire so they allow guests the ability to taste the distinct flavors of each tasting room all in one day or better to spread the tastings out over a weekend, several weeks, or even months. They are valid until you visit all 10 wine tasting rooms!

At the Hofsas House , book any room for a minimum of two nights, stay between now and June 15th and get 2 for 1 Wine Walk Passes! Itís simple, stay for two nights at the Hofsas House before June 15th, 2013 and receive 2 Wine Walk passes for $50.
A $50 savings!

Indicate "Wine Walk" when you reserve online and we will have the Passports for you when you check-in.